The University of Indianapolis Department of Music announced today extensive upgrades to video and broadcast production equipment, allowing for multi-disciplinary learning for music students as well as improving the concert-going experience, in the age of COVID and beyond.
"This expansion offers an incredible opportunity for our music technology students to both work on the audio side of live video broadcast productions and on the video side itself, on equipment found in many concert halls, churches, and venues," said Brett Leonard, assistant professor and director of the Music Technology program at the University. "This cross-training puts our students in a great position to enter a variety of roles within our increasingly multi-medium industry."
Upgrades to the production system at the University of Indianapolis, which hosts dozens of concerts, lectures and events every year, include:
Panasonic 4K cameras
Switching and recording equipment from Blackmagic Designs
Remote-operated PTZ (pan, tilt, zoom) cameras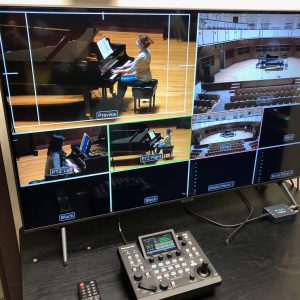 The upgrades will work together to allow for 4K streaming to multiple websites and viewing platforms, which is especially important while audience attendance is limited or prohibited due to COVID restrictions. The new system will also allow for simultaneous multi-camera recording for large-scale recording projects like the annual Christmas from Campus concert.
Not only focused on the livestream experience, the upgrades will provide real-time feeds of multi-camera content to the lobby for patrons waiting to be seated—and offers the opportunity to provide an overflow area for oversold events.
Livestreamed concerts have a viewership that approaches that of typical concert attendance, according to Leonard, so it is important for the University to maintain high broadcast quality. Now, these entirely student-run 4K multi-camera broadcasts—complete with multi-track audio and isolated camera recordings—will provide concert streamers a performance experience as close to being "in the house" as possible. For students and performers with friends and family all across the country this is an important step for helping the Department of Music adapt to new COVID norms.
"The pandemic pushed us all into new roles within the industry," Leonard added. "Giving our students more opportunities to learn new skills will leave them better prepared for entering an industry that has seen rapid change during the pandemic."
About the University of Indianapolis Department of Music
Music students at the University of Indianapolis have the chance to engage with first-rate faculty, experience performances in a world-class concert venue, and connect in a close-knit educational environment, all within minutes of downtown Indianapolis. The music technology program provides hands-on experience within the recording and broadcast facilities in the Ruth Lilly Performance Hall, an exquisite, Viennese-style concert hall, as well as dedicated recording facilities in the Christel DeHaan Fine Arts Center to engage in learning across a wide variety of specialties within the field of music technology. Close proximity to the downtown area and the Fountain Square district provides a vibrant setting for internship possibilities as well as culturally engaging opportunities for Indianapolis residents and University students alike.
About the University of Indianapolis
The University of Indianapolis, founded in 1902, is a private university located just a few minutes from downtown Indianapolis. The University is ranked among the top National Universities by U.S. News and World Report, with a diverse enrollment of nearly 5,600 undergraduate, graduate and continuing education students. The University offers a wide variety of study areas, including 100+ undergraduate degrees, more than 40 master's degree programs and five doctoral programs. More occupational therapists, physical therapists and clinical psychologists graduate from the University each year than any other state institution. With strong programs in engineering, business, and education, the University of Indianapolis impacts its community by living its motto, "Education for Service." Learn more: uindy.edu.
University of Indianapolis Music Department announces technology upgrades to broadcast equipment and multi-disciplinary learning opportunities for students