At least here in the United States, we're back at a point where people are going places again. For those who are on the road a lot, a laptop needs to be versatile for work and other tasks, fitting easily in a bag but also serving many purposes. The Lenovo Yoga 9i Gen 7, ($1,449.99 to start, $1,929.99 as tested) is sleek, slim and folds into a tablet or tent with a 2-in-1 design.
This latest Yoga has rounded, polished edges that are comfortable on the wrists, even if they look a bit like my 2019-era iPhone. And despite being just 0.6 inches thick, Lenovo has made room for both Thunderbolt 4 and classic USB Type-A ports.
It's a premium package, marred only by the sheer amount of software packed onto it, which I expect more from budget notebooks, not premium portables. But with an all-aluminum design, Intel's 12th Gen P-series processors and a bright OLED screen, the Yoga 9i stands tall as one of the best ultrabooks we've tested in recent memory. 
Design
The Yoga 9i is easily one of the most attractive Windows PCs I've seen in the past year. It eschews the blockier design that Apple has been bringing back, in exchange for a rounded profile, which I still think is clean and eye-catching. It reminds me a bit of my iPhone 11 Pro Max from 2019.
Image 1 of 4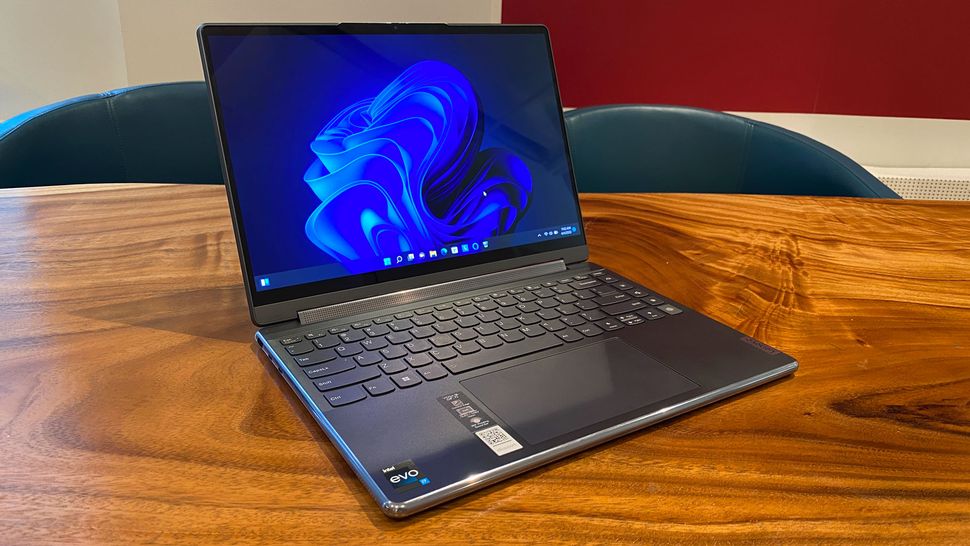 Image 2 of 4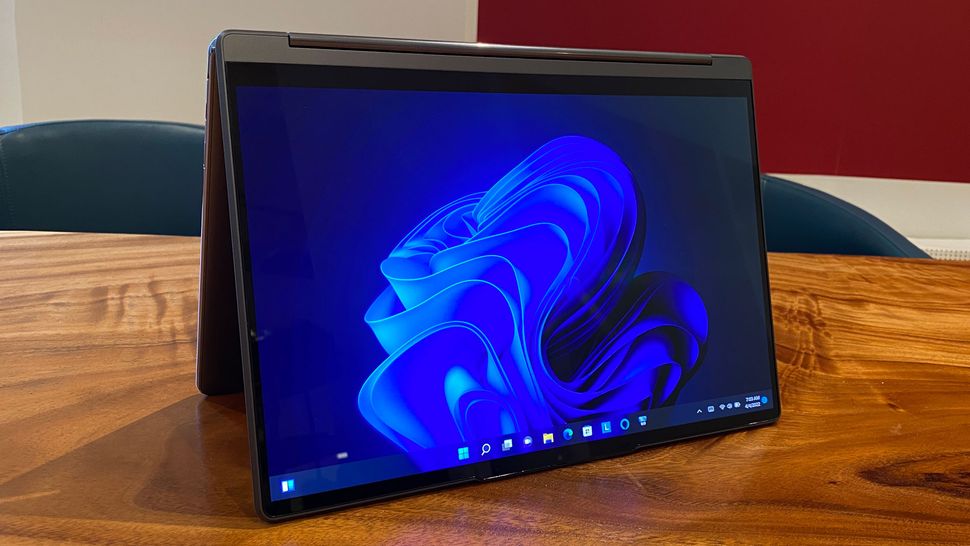 Image 3 of 4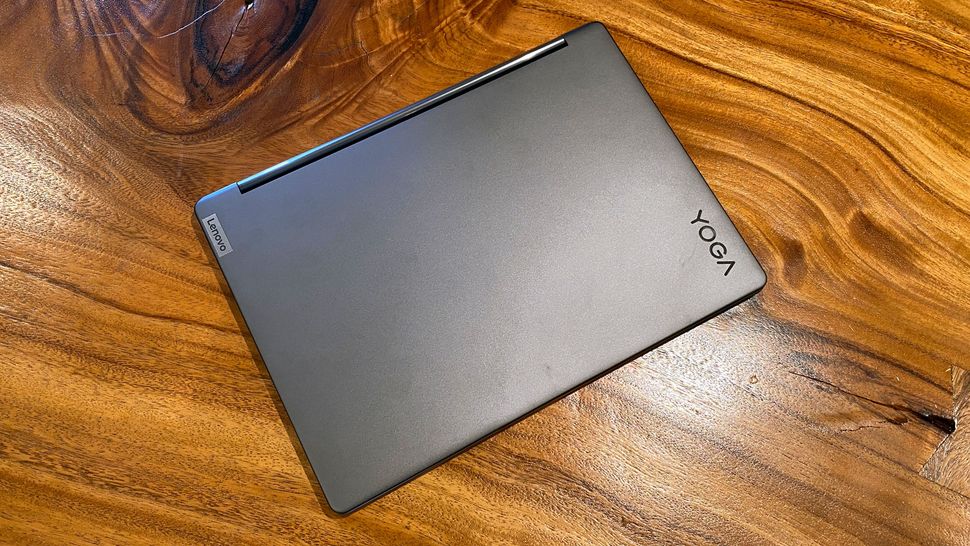 Image 4 of 4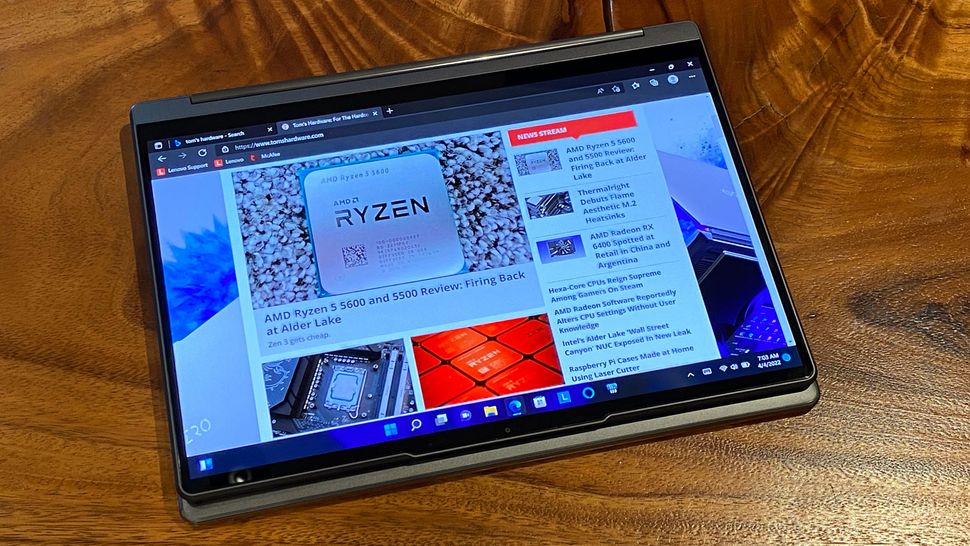 While the lid is Lenovo's standard aluminum with a Yoga logo, it contrasts, even when closed, with the polished, curved edges around the bottom case. I haven't had issues with scratches, but I do wonder how the polished bit will hold up over time.
Those polished edges feel nice against the wrist. While sharper, boxier edges haven't typically been an issue for me, I did actually notice how comfortable the rounded edges were when I put my hands on the laptop to type.
In a clever move, the 360-degree hinge on the Yoga 9i is a speaker, which we'll get to more in the audio section. This allows for the speakers to face you whether you're using the Yoga as a computer or holding it as a tablet.
The 14-inch screen has a moderate bezel around it, especially on the top where the webcam is. It's been expanded into a small notch, though it doesn't go into the screen or protrude out beyond the line of the lid, keeping things flush so it can stand up in tent mode.
Image 1 of 2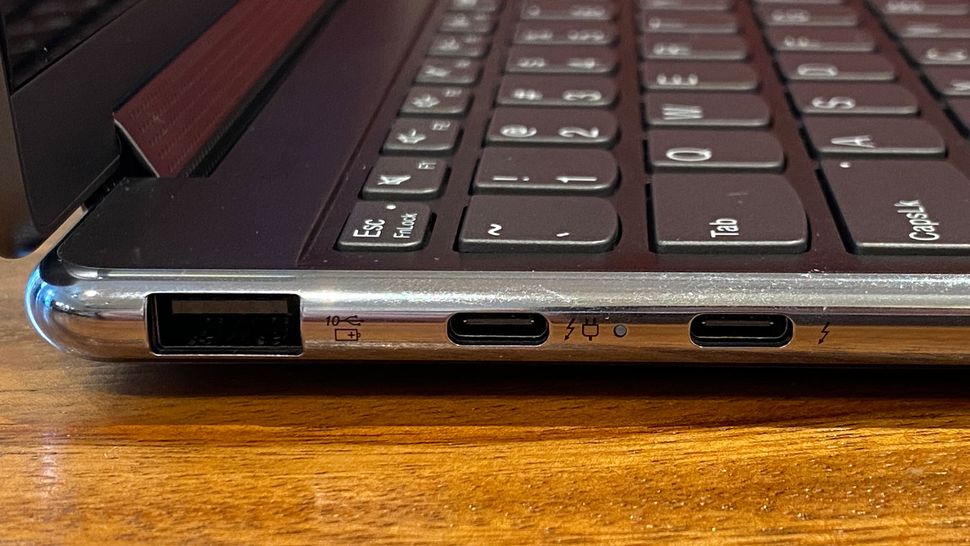 Image 2 of 2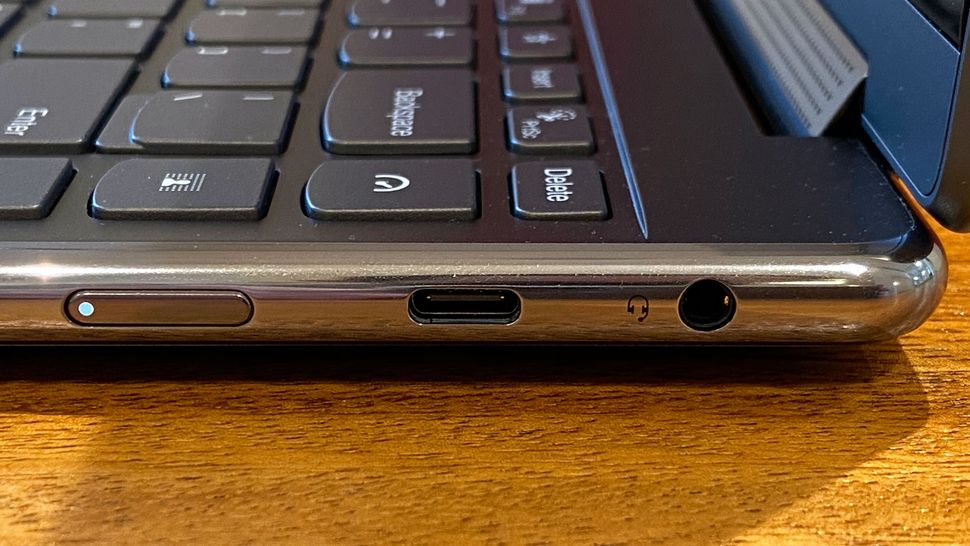 There are only a few ports on the Yoga 9i, an increasingly common theme on thin notebooks. On the bright side, Lenovo isn't killing off legacy ports here. USB Type-A is the first port on the left side, alongside a pair of Thunderbolt 4 ports. On the right side, there's a USB-C port and a 3.5 mm headphone jack.
At 3.09 pounds, the Yoga 9i is slightly heavier than it looks in its 12.52 x 9.06 x 0.6 inch-frame. The HP Spectre x360 14 is 2.95 pounds and 11.75 x 8.67 x 0.67 inches, making it slightly smaller. The Surface Pro 8, which is a tablet detachable 2-in-1 rather than a convertible, is just 1.96 pounds and 11.3 x 8.2 x 0.37 inches.
Specifications
| | |
| --- | --- |
| CPU | Intel Core i7-1260P |
| Graphics | Intel Iris Xe |
| Memory | 16GB LPDDR5-5200 |
| Storage | 1TB PCIe Gen 4×4 SSD |
| Display | 14-inch, 3840 x 2400, 16:10, OLED touchscreen, Dolby Vision |
| Networking | Intel Wi-Fi AX211 and Bluetooth 5.2 |
| Ports | 2x Thunderbolt 4, USB 3.2 Gen 2 Type-A, USB 3.2 Gen 2 Type-C, 3.5 mm headphone jack  |
| Camera | 1080p with privacy shutter,  |
| Battery | 75 WHr |
| Power Adapter | 65W |
| Operating System | Windows 11 Home |
| Dimensions (WxDxH) | 12.52 x 9.06 x 0.6 inches / 318 x 230 x 15.25 mm |
| Weight | 3.09 pounds (1.4 kg) |
| Price (as configured) | $1.929.99 |
Productivity Performance
The Yoga 9i is the first laptop we've tested with an Intel 12th Gen Core P-series processor. Specifically, this notebook runs on an Intel Core i7-1260P, a 12-core / 16-thread processor with four performance cores and 8 efficient cores. In the Yoga, Lenovo also included 16GB of RAM and a 1TB SSD.
Image 1 of 4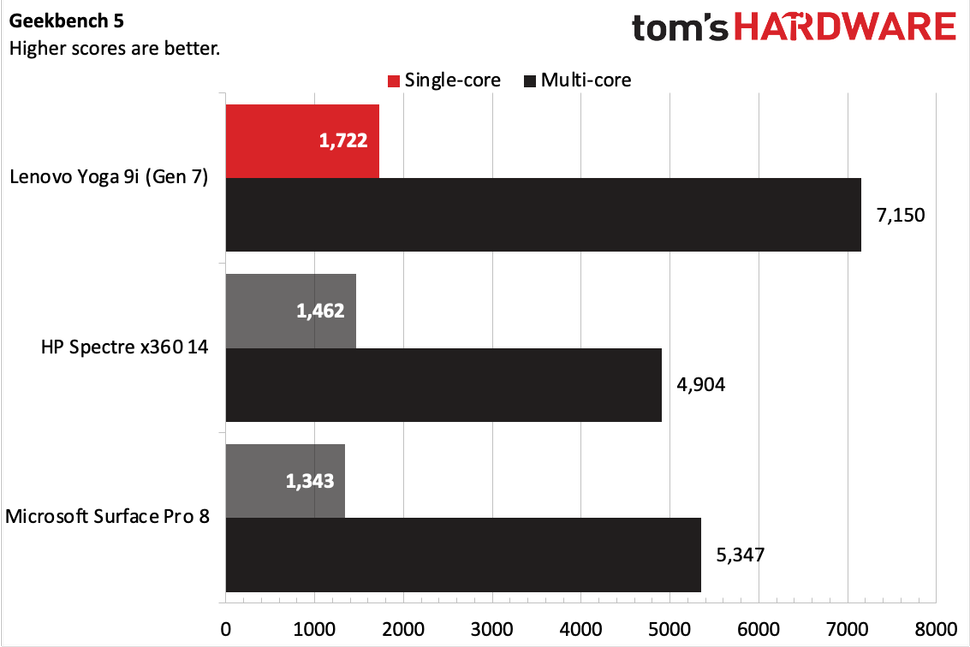 Image 2 of 4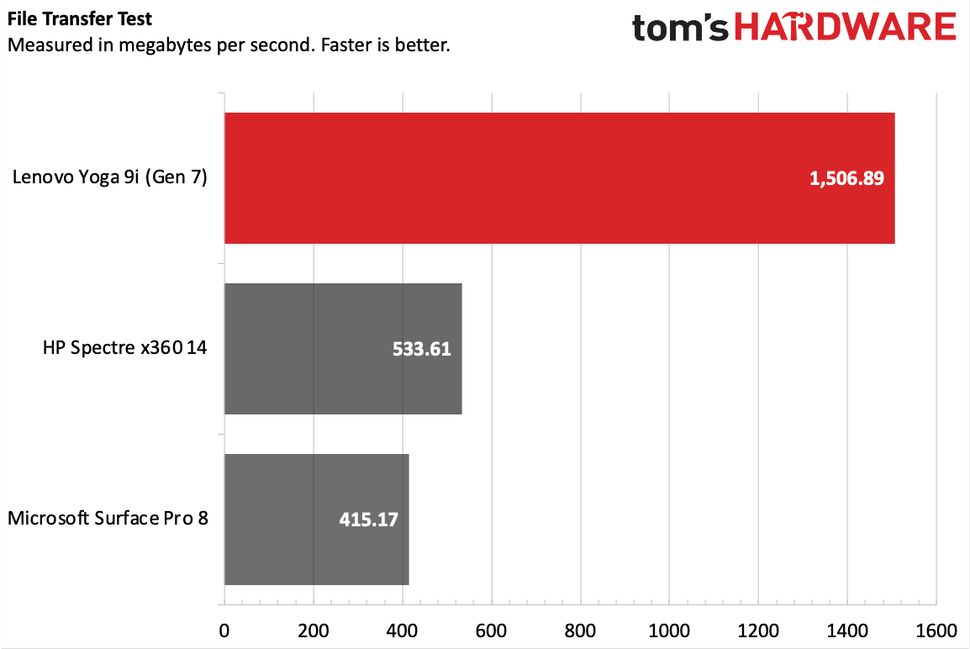 Image 3 of 4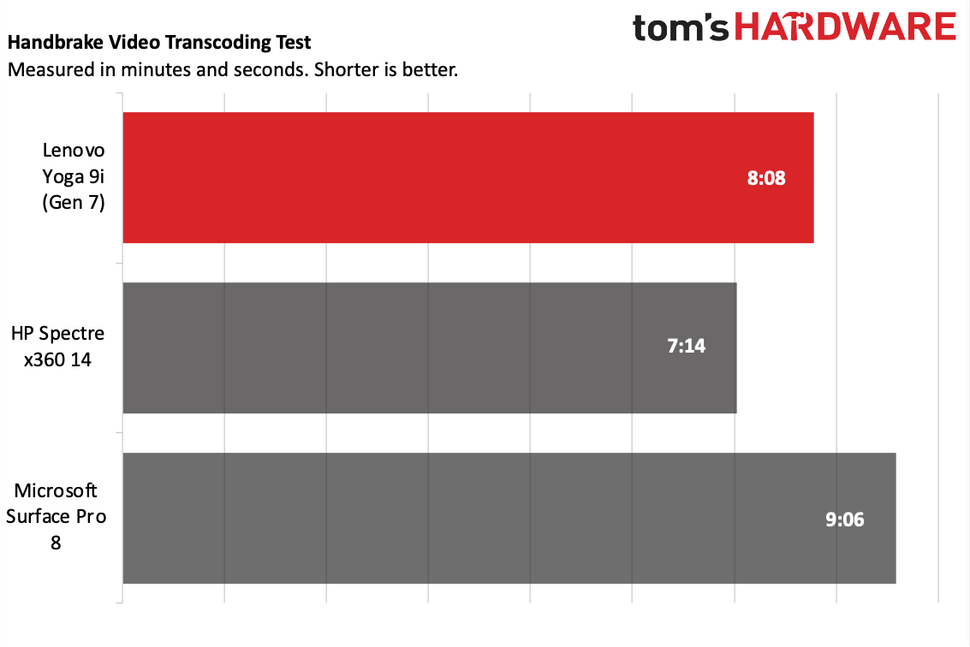 Image 4 of 4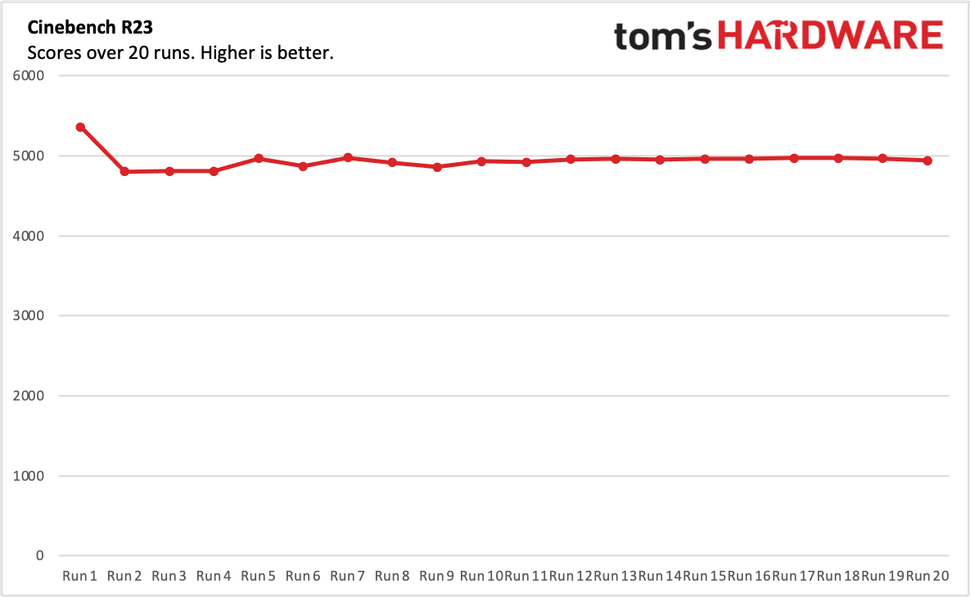 On Geekbench 5, an overall performance test with heavy CPU emphasis, the Yoga notched a single-core score of 1,722 and a multi-core score of 7,150. Those are far higher than last-gen Core i7-1165G7 in the HP Spectre x360 (1,462 / 4,904) and the Core i7-1185G7 in the Surface Pro 8 (1,343 / 5,347), especially in multi-core.
The Yoga's SSD duplicated 25GB of test files at an astounding rate of 1,506.89 MBps, blowing the Spectre and Surface Pro 8 out of the water.
On our Handbrake test, we have laptops transcode a test video from 4K to 1080p. The Yoga performed this task in 12 minutes and 18 seconds, beating the Surface Pro 8 by over a minute and was several minutes ahead of the Spectre x360.
To really put productivity notebooks through their paces, we run the Cinebench R23 benchmark 20 times in a row and collect the scores to get an idea of how it performs under stress. The Yoga 9i started at 5,362.14 before a drop — which is normal during repetitive runs — and normalized in the 4,900 range.
As Cinebench R23 ran, the Core i7-1260P's performance cores ran at an average of 1.43 GHz and the efficiency cores averaged 1.27 GHz. The CPU measured an average temperature of 53 degrees Celsius, with no signs of throttling during our stress test..
Display
The Yoga 9i boasts a 16:10 OLED display that gets plenty bright and looks nice and colorful, too.
To test out the 3840 x 2400 touchscreen, I watched one of our go-to test videos, the 4K, open source short Tears of Steel. It's a bad film, but it's got tons of colors and eye candy to check.
Early scenes in the film take place in a lab, with lots of blue, green and pink lights that popped off of gray backgrounds. In another scene, a sniper overlooks a city bathed in blue light. His orange juice box really stands out there.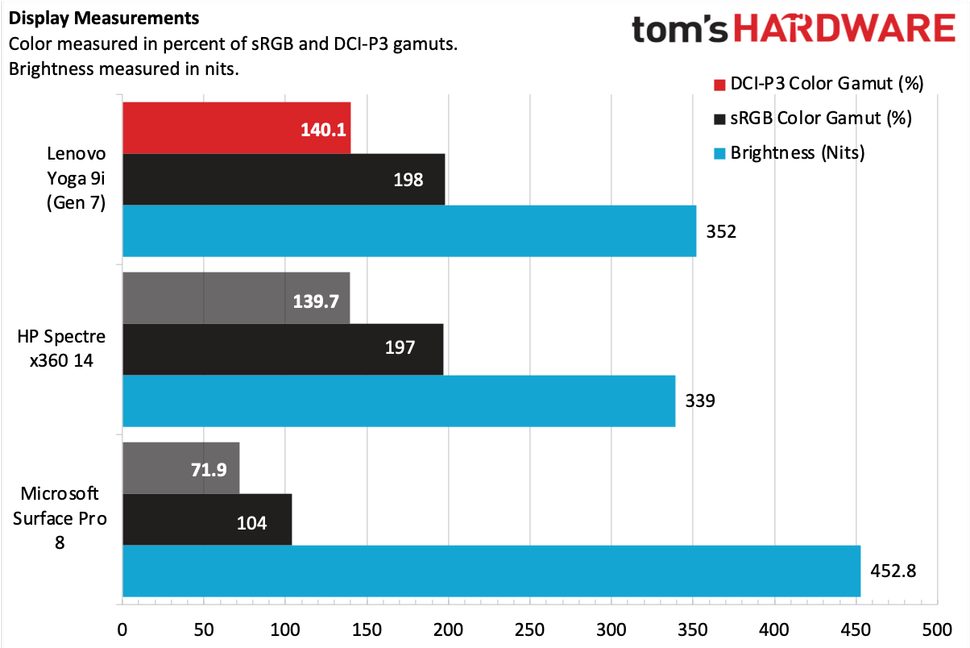 Lenovo's display covers 140.1% of the DCI-P3 color gamut and 198% of the sRGB gamut. That's just decimal points ahead of the HP Spectre x360's OLED display. The Microsoft Surface Pro 8 offers a faster 120 Hz refresh rate, but is less vivid at 71.9% and 104%, respectively.
The Yoga was quite bright at 352 nits on our light meter, beating the Spectre (339 nits) by just a bit. But the Surface Pro 8, even without OLED, literally outshined the competition at 453 nits of brightness.
Perhaps my biggest gripe is that Lenovo didn't go with a 3:2 display, like Microsoft does. 16:10 is a nice compromise that makes the screen taller, but since the Yoga 9i is a productivity machine and a 2-in-1, the 3:2 aspect ratio would have made for a better tablet experience.
Keyboard and Touchpad
The keyboard on the Yoga 9i stretches across its aluminum unibody build. The keys are comfortable enough, and I never felt as if I was bottoming out and tiring my fingers. I hit 106 words per minute on the 10fastfingers typing test, which is pretty standard for me.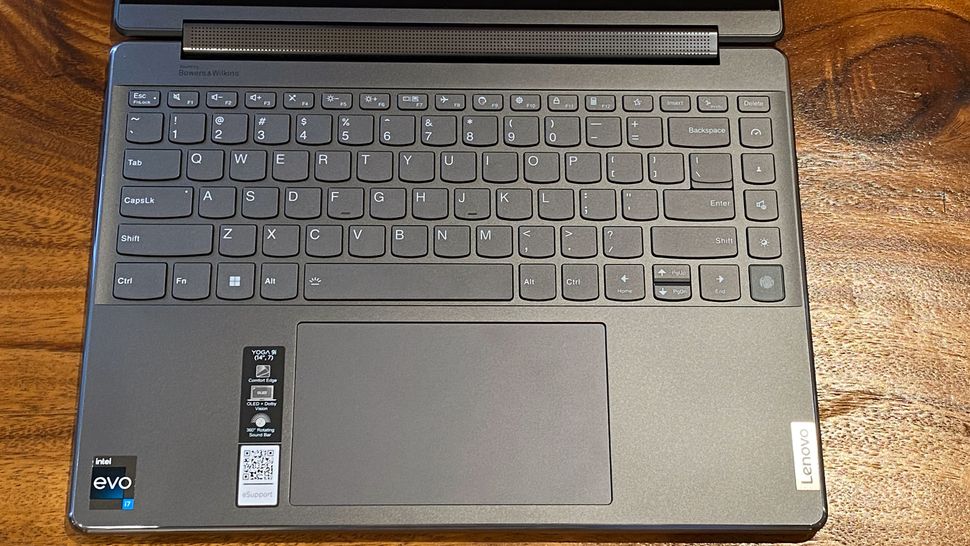 At the right side of the keyboard, there's a dedicated row of keys with what Lenovo calls "1-click functions." From top to bottom, these quickly change power profiles; add or remove background blur during video calls; switch between different audio profiles (Lenovo calls this one "vibe check," suggesting someone thinks they understand Gen Z); and change between Windows 11's light and dark modes. There's also a fingerprint reader at the bottom for use with Windows Hello.
I'm all for dedicated keys to serve functions that aren't expected on a normal QWERTY setup. Some of these however, like swapping between light and dark mode, seem like settings that just don't need to be changed often enough for a dedicated key. Of these, background blur toggling seems the most useful.
I would prefer Lenovo go a step forward and let people customize these keys. I would much rather have an option to have a play/pause key, launch and close specific programs or even have text macros that execute with a key press. There's a piece of software dedicated to these keys, called Lenovo Hotkeys, but all it does is tell you what the keys do.
The fingerprint reader works well, and is useful for when I had the e-shutter closed, which blocked Windows Hello over the IR camera. It's also nice to have an alternative login option for when you're somewhere wearing a mask.
The 3.15 x 5.41-inch glass touchpad has reached MacBook levels of large, but I appreciate the space. There was no question as to whether or not I would be able to use a four-finger gesture in Windows 11, like swiping up to view all of my virtual desktops.
Audio
Despite its slim stature, the Yoga 9i packs some decent sound. With a pair of 3W subwoofers on the sides of the laptop and two front-facing tweeters on the 360-degree sound bar, you get fairly clear sound, with the caveat that it's still a laptop.
This thing gets incredibly loud. In my testing, the sounds of Little Boots' "Stuck on Repeat" blared through my apartment. I found I really didn't need to boost the sound above 65% volume to hear the song's mix of synthesizers, drums and sing-song vocals. The bass, while present, was kinda weak. You can crank the volume even higher, but I found that at the very top end of the volume options, sound got a bit distorted.
The laptop has music, movie and game presets in its Vantage software, which can be easily switched with a dedicated keyboard button. I would recommend most people stick to the default music setting, though the "dynamic" option to pick the best mode is also pretty solid.
Upgradeability
There are six visible Torx screws on the bottom of the Yoga 9i, but another three are hidden underneath a rubber strip near the exhaust fan. If you're willing to risk damaging that strip or not being able to get it back on, you'll be able to get this open. For most people, that strip makes it effectively unrepairable without a professional.
Those who do venture past that strip will find that the SSD is replaceable, but the RAM is soldered to the motherboard. According to Lenovo's maintenance manual, some models of the laptop use a full-length M.2 2280 SSD, but others are configured with a shorter M.2 2242 SSD and a bracket.
Other removable parts include the Wi-Fi module and the battery.
Battery Life
The Yoga 9i lasts just over a full workday on a charge. On our battery test, which has laptops browse the web, run OpenGL benchmarks and stream video at 150 nits with Wi-Fi on, Lenovo's 2-in-1 ran for 8 hours and 8 minutes.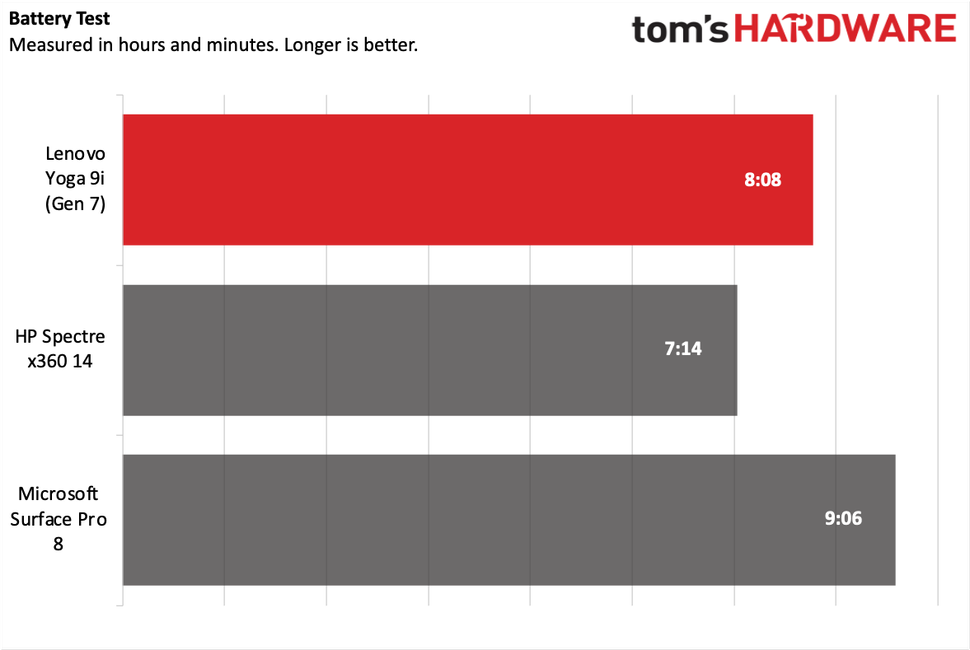 An OLED screen usually takes a nice bite out of potential battery life. Still, the Yoga ran longer than the Spectre x360 14, which lasted for just 7:14. The Surface Pro 8, however, ran for 9:06.
Pleasingly, if you think you'll need a charge, the Yoga 9i's 65-watt power brick is petite and won't take up too much space in a bag.
Heat
To see just how hot the Yoga 9i could get, we took surface temperature measurements while running our Cinebench R23 stress gauntlet.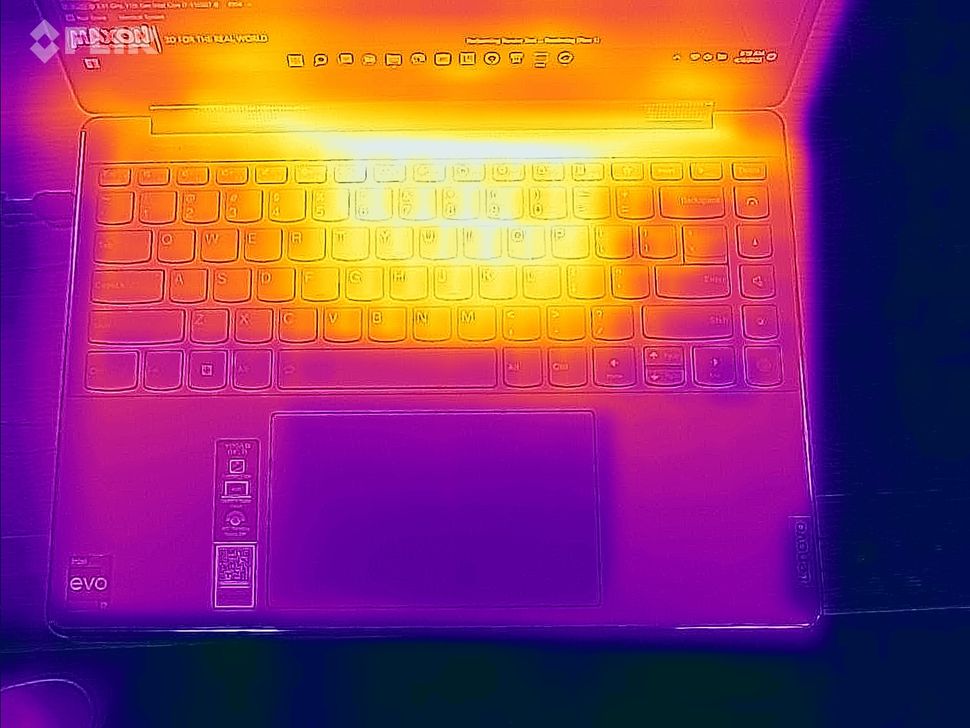 At the center of the keyboard, between the G and H keys, the laptop measured 35.3 degrees Celsius (95.54 degrees Fahrenheit). The touchpad measured a much cooler 25.8 degrees Celsius (78.44 degrees Fahrenheit).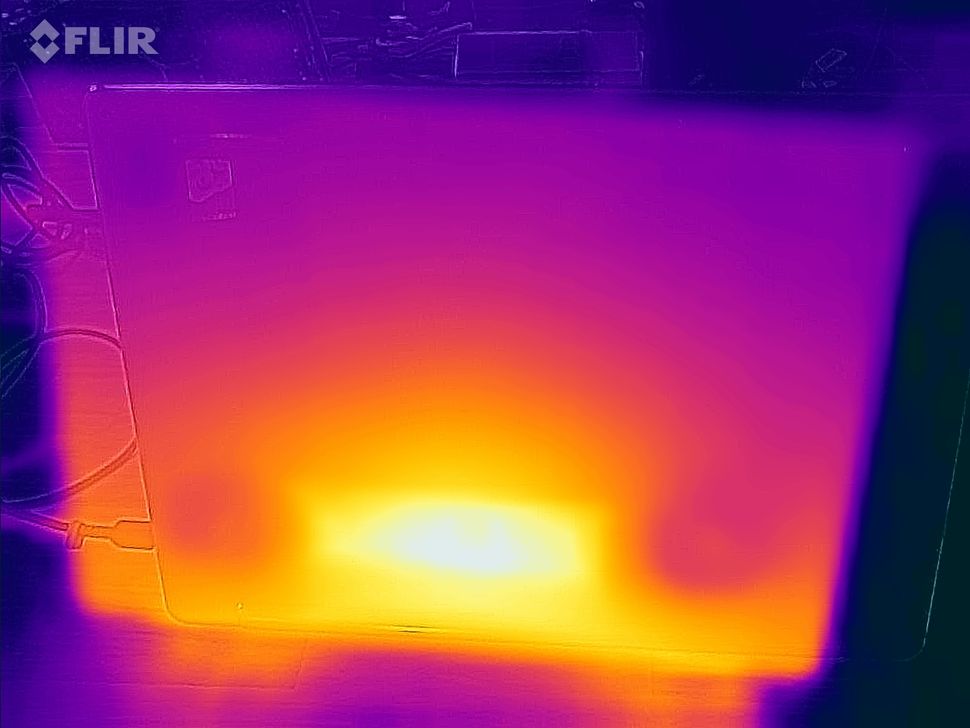 The underside of the laptop measured 40 degrees Celsius at the hottest point, or 104 degrees Fahrenheit. That's warm, but not uncomfortably so.
Webcam
Lenovo is the latest company to update its webcams (or at least some of them) to 1080p. These don't always mean better image quality, but I always appreciate the extra resolution. We're on a lot of video calls these days, after all.
The Yoga's webcam is great with color accuracy. It easily reproduced my olive green shirt and the blue of my eyes, for example. But there was still some visible grain on calls and photos that I took, so those looking for something more professional might want one of the best webcams.
Lenovo has two levels of security for the camera. There's a hardware e-shutter that you can slide with a finger to block the lens, but there's also a software feature in Lenovo Vantage called "Camera Privacy Mode" that keeps the camera from sending an image. The camera light will still turn on, but the only image is of a gray screen with a lock icon on it. Think of it as a way to not send your image in Zoom whether you disable your webcam or not.
Software and Warranty
It wasn't long ago that you could get a laptop from Lenovo with just its Vantage app. Things aren't that simple on the Yoga 9i.
Beyond Vantage, which lets you check warranty status and change settings like Lenovo's options to change color temperature or pause media when you look away, there's the Lenovo Hotkeys app just to tell you what the extra keys on the keyboard do; Lenovo Smart Appearance, with settings to "beautify" your face and smoothen your skin (it made my eyes bigger and my jawbone smaller) as well as fake eye contact with the webcam. Lenovo Voice acts a translator or lets you create and issue voice commands. I had issues with this app failing to connect or asking me to sign in with a Lenovo ID for some tasks but not others.
Lenovo has also preinstalled Amazon's Alexa, which is pinned to the taskbar but has to be set up with an Amazon account before it starts working. Additionally, in the Edge browser, Lenovo has pre-pinned its website and support site to the bookmarks bar, as well as a link to a deal on McAfee antivirus.
Lenovo has gone a bit overboard with the extras here, and I'm not a fan of it. The sheer amount of software that's pre-installed cheapens the device, which is otherwise premium. And that's before the stuff that comes with Windows 11, like Disney Plus, Prime Video and Spotify.
Lenovo sells the Yoga 9i (Gen 7) with a 1-year warranty.
Configurations
The Lenovo Yoga 9i (Gen 7) we tested has a 14-inch, 3840 x 2400 OLED display and is powered by an Intel Core i7-1260P, Intel Iris Xe Graphics, 16GB of LPDDR5 RAM and a 1TB PCIe Gen 4 SSD. This configuration will soon be available exclusively at Best Buy for $1,929.99.
The base model has the same Core i7, but with 8GB of RAM and just 256GB of storage, with a lower-resolution 1920 x 1200 LED display. That currently costs $1,229.99 on Lenovo's website, though we saw it drop to $879.99 on a sale at Best Buy while writing this review.
Best Buy also carries a $1,449.99 version with the same processor and RAM as our review unit, but with the lower-end screen and a 512GB SSD, as well as a lighter "mica" color. A 15-inch variant with a discrete Nvidia GTX 1650 Ti GPU is $1,879.99.
Bottom Line
If you want a slim portable without sacrificing power, the Yoga 9i (Gen 7) is for you. Its convertible design still fits room for both USB Type-A and Thunderbolt ports, and the Intel Core i7-1260P CPU didn't disappoint in our benchmark tests.
The OLED display is bright and colorful, although you may not find it on the lower-end models. If you prioritize a faster refresh rate, the 120 Hz screen on the Microsoft Surface Pro 8 may entice you to consider a detachable design (though as ever, you'll also need to pay separately for a keyboard).
But if you want that traditional laptop form factor with the opportunity to use it as a tablet when you feel like it, plus great sound and a sleek design that's easy on the eyes and wrists, the Lenovo Yoga 9i is a pretty, impressive option.