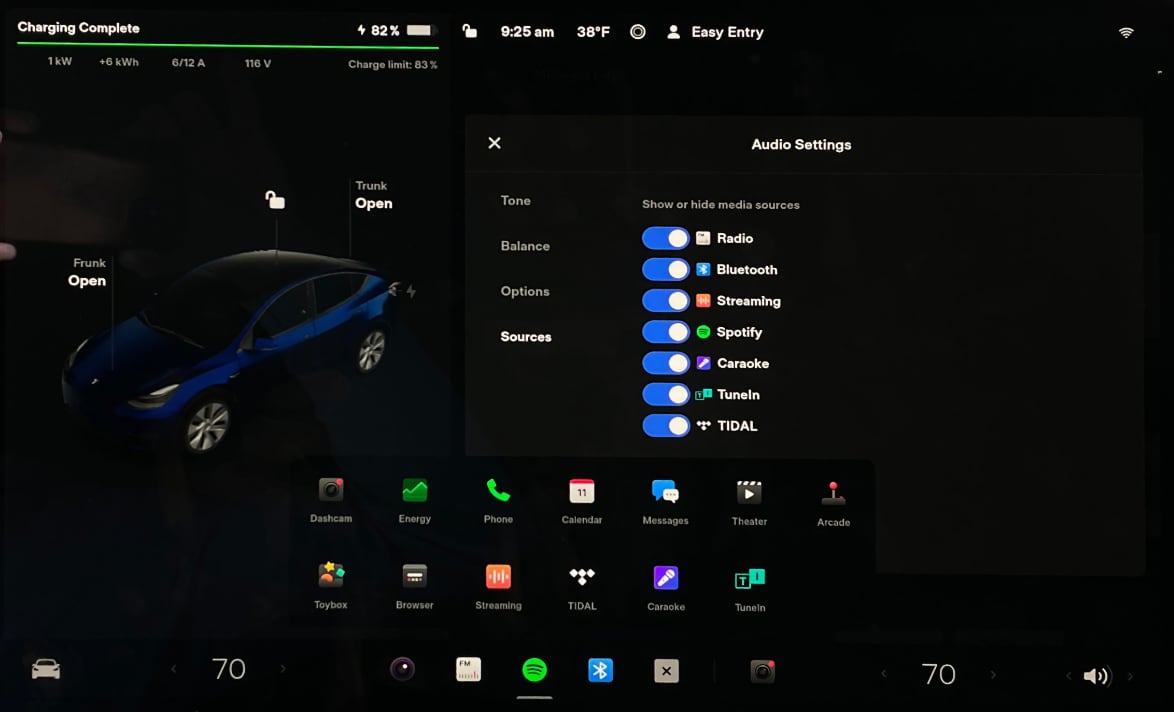 While Teslas are filled with a plethora of industry-leading features, new owners are often surprised by the incredible quality of the Tesla audio system and its audio features.
In fact, it is believed that Tesla's sound systems are on-par with premium Bang and Olufsen systems ($12,000 optional sound system in vehicles like the Audi A8). Elon Musk even admitted in a tweet that they used former Bang and Olufsen engineers to design the audio systems found in the Model 3 and Model Y.
Tesla continues to refine the audio experience for Tesla owners, as indicated by the release of the new subwoofer equalizer settings as of update 2021.44.25.
With this incredible audio experience standard across all models, it should come as no surprise that music streaming is a priority for Tesla.
Premium Connectivity

Part of the selling points of Tesla's Premium Connectivity is the seamless music streaming abilities offered by Tesla.
With a Premium Connectivity plan, drivers can easily stream audio without the use of cellphone pairing solutions or Bluetooth streaming.
Bluetooth Audio

If a Tesla driver chooses not to purchase the Tesla Premium Connectivity Plan, they can stream audio via Bluetooth from their cellphone.
Audiophiles would point out that the act of streaming via Bluetooth degrades the quality of the music to compress the data stream for wireless transmission. A physical connection with a USB cable connected to a cellphone is not currently supported by Tesla.
Hotspot

In addition, drivers can use their cellphone as a hotspot, allowing the vehicle to stream audio such as Spotify using their device's data connection.
When using your device as a hotspot, you'll have access to almost all of Tesla's features included in Premium Connectivity. These include audio and video streaming services like Spotify and Netflix (accounts with these services are still required), Caraoke and more.
The only options it doesn't include are live traffic visualizations and satellite-view maps.
Available Tesla Music Streaming Services

Like many modern vehicle manufacturers, Tesla has focused on developing an infotainment ecosystem that relies on streaming services to deliver music and podcast streams to the driver via Wi-Fi and cellular connections.
Many of these services are premium services not routinely found in standard car software. Currently, Tesla offers a direct stream from Slacker, Spotify, TIDAL, and TuneIn. This is in addition to FM radio and SiriusXM for the Model S and Model X.
Tesla Streaming (Slacker Radio)

While branded as a Tesla streaming service, Tesla has partnered with Slacker Radio to provide a free Slacker Plus account (ad-free) to Tesla Premium Connectivity customers. In the US, this music service shows up in the vehicle simply as "Streaming."
This account mirrors the features of a Slacker Premium account, enabling drivers to search for songs using voice commands, create and stream playlists, and enjoy curated streaming stations for their enjoyment.
Spotify

Arguably the most well-known of the streaming options, Spotify has built a reputation for exclusive high-quality podcasts and playlist management that makes them one of the most popular streaming services in the world (current market share of 31% of the global streaming market). While not known for its audio playback quality, Spotify's streaming service offers an industry-leading catalog of material that is popular with Tesla drivers.
Although Spotify offers the ability to stream songs with a higher bit rate (HQ), it is currently not available in Teslas.
TIDAL

Tidal's ad-free music streaming service is billed as a premium lossless music stream (indicating a higher quality audio experience when compared to other Tesla streaming partners).
Tesla users with a TIDAL HiFi subscription can stream audio files at 1411 Kbps using a lossless codec that doesn't sacrifice quality for streaming bandwidth speeds.
However, users have noted that streaming these lossless files over an LTE connection can cause frequent buffering issues due to the large file sizes.
TIDAL does offer the ability to download songs via Wi-Fi to prevent buffering issues.
TuneIn

A lesser-known subscription-based streaming product, TuneIn offers Tesla drivers ad-free streaming of music, news networks (CNBC, CNN, FOX News Radio, and MSNBC), and live play-by-play sports with no blackouts from the NFL, MLB, NBA, and NHL.
There is a free tier for TuneIn users interested in listening to their curated playlists and sports radio products.
You can simply navigate to TuneIn and start listening; no need to create an account.
SiriusXM

Popular for its large selection of curated music stations, talk radio catalog, and sports streaming, SiriusXM is a leading subscription and semi-ad-supported streaming solution for the U.S. and Canadian markets.
SiriusXM is only available in the Model S and Model X using a satellite receiver which is not available in the Model 3 or Model Y.
While there have been rumors of an internet-based SiriusXM streaming solution for other models, that solution has yet to appear in the Model 3 and Model Y.
Caraoke

Tesla Caraoke is Tesla's version of the popular karaoke format. The free service (requires Premium Connectivity or Wi-Fi) allows drivers to play and sing popular karaoke songs directly from their car's infotainment system.
USB Drive (Downloaded MP3s)

For owners who prefer to play their own downloaded music collection, Tesla also allows you to plug in a USB drive and play MP3s directly from your device.
This feature can be useful if you don't subscribe to Tesla's Premium Connectivity or sometimes drive in areas with poor reception.
Your USB drive will need to be formatted using exFAT for this to work. Once the drive is plugged in you'll be able to access your music via a new USB icon available in the launcher.
Tesla will then let you view your music by artist, album, song title, or even search for your favorite songs.
Missing Streaming Services

Apple Music, the second most popular music streaming service in the US, remains absent from Tesla's streaming lineup.
Amazon Music, a close third-place finisher, also remains absent from Tesla's audio streaming options. Pandora is also not yet available from Tesla's infotainment system.
While a YouTube video app is available in the Theater section of the Tesla infotainment system (while parked), YouTube's music streaming service, YouTube Music, is currently not supported.
It should be noted that workarounds exist for playing content from excluded streaming services like Pandora, Apple Music, Amazon Music, Youtube Music, etc. through the use of Bluetooth streaming.
FM & AM Radio
Tesla's also offer traditional FM radio. The Tesla interface will automatically show you all the available stations around you so that you quickly start listening to a station without having to use a dial.
Although older Model S and Model X vehicles had the ability to listen to AM radio, that capability is no longer available in newer cars. However, TuneIn has many stations available for streaming, so your favorite AM station may also be available to stream for free on TuneIn.
Apple AirPlay & CarPlay Rumors

Recently, Elon Musk indicated in a tweet that Tesla was considering the addition of AirPlay connectivity. While short of an Apple CarPlay integration, Apple Airplay would allow for improved audio streaming from iPhones when compared to current Bluetooth solutions.
By Gabe Rodriguez Morrison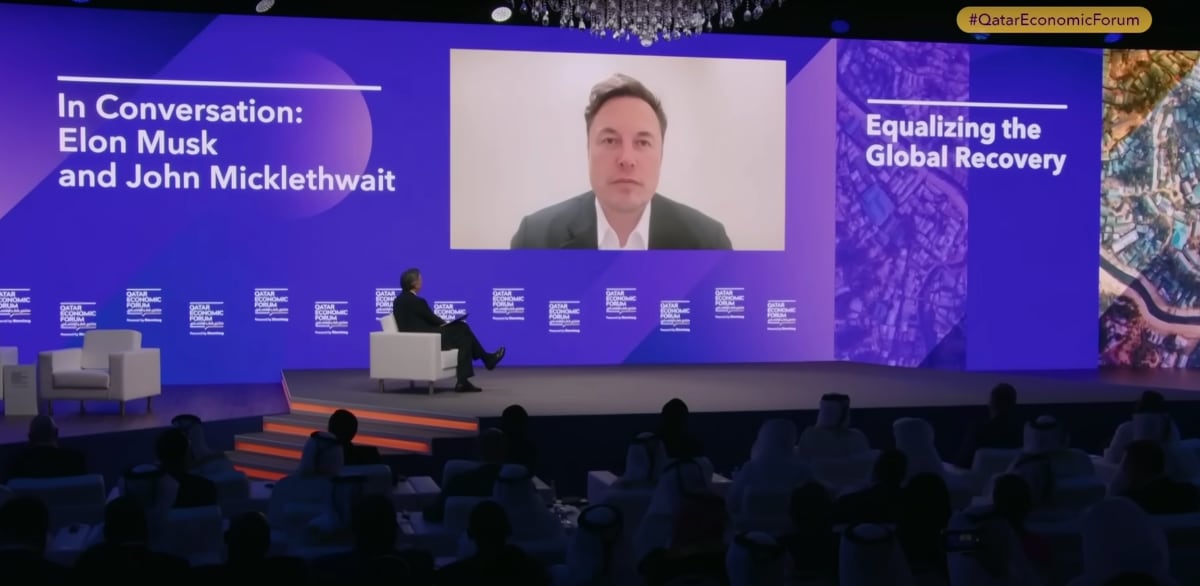 Tesla CEO Elon Musk recently attended Bloomberg's Qatar Economic Forum focused primarily on the diversification of the world economy and the development of renewable energy.
Elon Musk spoke about a variety of topics, including recession fears, Tesla Job cuts, growth and competition and the recent Twitter buyout.
Elon Musk said that a recession in the U.S. "is inevitable at some point. As to whether there is a recession in the near-term, that is more likely than not."
Musk also shared more details on the recent Tesla job cuts:
"Tesla is reducing its salaried workforce roughly 10% over the next three months or so. We expect to grow our hourly workforce. We grew very fast on the salaried side, grew a little too fast in some areas."
He added, "A year from now, I think our headcount will be higher both in salaried and hourly" workers, but for now the headcount reduction will be '3% to 3.5%.'"
When asked about Bloomberg's own forecasts of Volkswagen overtaking Tesla, Musk disagreed:
Elon On Bloomberg Intelligence Forecasting VW Taking Over Tesla. The Absolute Best From Qatar Economic Forum ???????? @elonmusk $TSLA pic.twitter.com/z4dB4h6XmT

— ???????? ???????? Umbisam Urges FSDBeta in EU ???????? ???????? (@Umbisam) June 21, 2022
Musk also spoke about Tesla's growth in relation to global supply constraints. He said that this was a bigger issue than competition from rival automakers. "Our constraints are much more in raw materials and being able to scale up production."
Later on at the same event, CEO of Qatar Investment Authority, H.E. Mansoor Bin Ebrahim Al- Mahmoud was asked about Musk's bid to take over Twitter. He replied: "We believe in Elon's leadership, and that's why we have committed on this transaction."
The vote of confidence is much appreciated

— Elon Musk (@elonmusk) June 21, 2022
2 days since announcement
By Gabe Rodriguez Morrison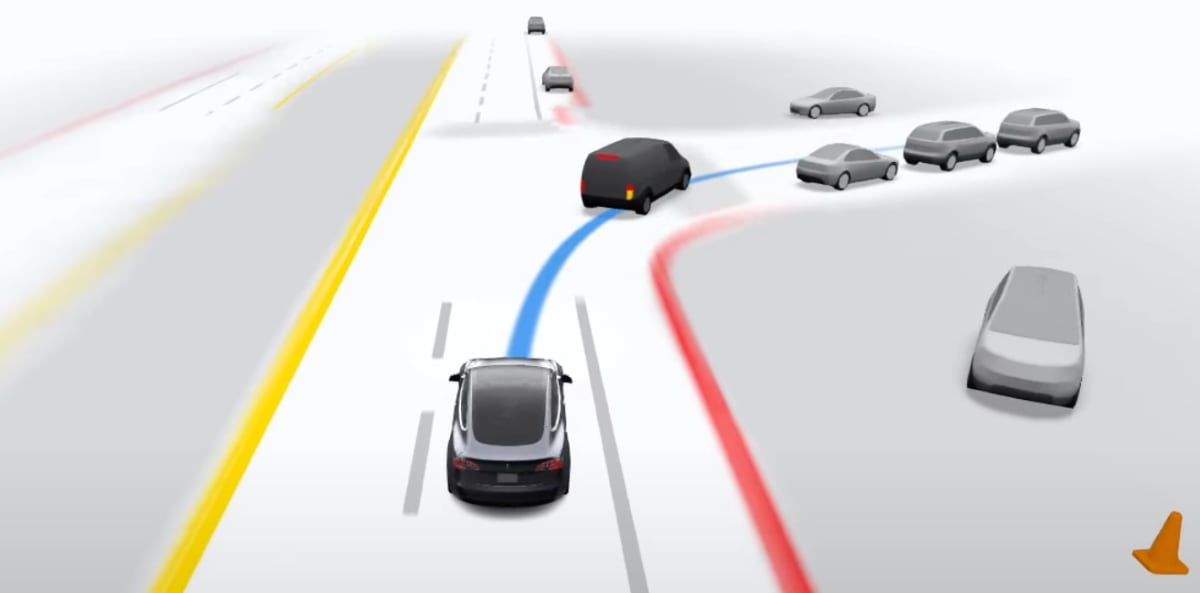 FSD Beta 10.12 introduced many improvements, including an upgraded decision-making framework for unprotected left turns, improved creeping, and enhanced geometric accuracy.
Now, users are waiting on the next update (version 10.13) that's expected to be even more substantial with improvements to roundabouts and navigating without map data.
Tesla is simultaneously working on the next release of FSD, v11.
FSD Beta v11 will be the next major update that is expected to contain significant improvements.
Single Stack for Improved Highway Driving
FSD Beta is currently using Tesla's latest technology improvements for city driving. Highway driving still relies on the current production version of 'Navigate on Autopilot.' 
Elon has previously said that Tesla will eventually merge highway and city driving into a single stack.
A technology 'stack' refers to the technologies used to build a system.
A single-stack system uses the same technologies for multiple applications, instead of having separate technology stacks for each application.
A single-stack version of FSD would allow Tesla to apply everything it has learned in city driving to its Navigate on Autopilot highway feature.
When Tesla trains and adapts its FSD Beta neural nets to highway driving, we may see drastically smoother merging and cornering on the highway. While the addition of a single stack has been talked about as far back as FSD Beta 10.1, it sounds like we may finally be able to experience it in FSD Beta v11.
Reverse Creep
An additional feature we could see in version 11 is the ability for the car to move backward. For example, if the car is stopped at an intersection and doesn't have great visibility, it'll now creep forward for a better view, just like a human driver would.
However, with v11, the car could also creep backward if it senses danger.
With 10.1, it will creep forward with more confidence & quickly reverse back a little (just as a person would) if it sees danger

— Elon Musk (@elonmusk) September 12, 2021
Release Date
When asked about FSD Beta v11, Tesla CEO Elon Musk revealed that he's currently driving an alpha version of FSD Beta 11 on the highway.
Musk admits that the software is not ready, estimating that Tesla FSD Beta version 11 could be released by the summer of 2022. Currently, Beta testers are waiting for the release of FSD Beta 10.13.
I'm driving an alpha version of FSD on highway and it's not quite ready. Probably ready for wide release this summer.

— Elon Musk (@elonmusk) June 15, 2022