In the dozen or so years since R.E.M. literally waved goodbye to us on the cover of March 2011's Collapse Into Now", much has gone down around the world as we know it — but we're still holding on, and largely feel fine. Accordingly, when the news of new reissues of two late-period R.E.M. albums from Craft Recordings crossed our desktops, the first thing we here at AP felt was a collective, "Yes, the world could sure use some R.E.M. love right about now!"
Before I wax poetic about the rejuvenating power of this now legendary American alt-rock band from Athens, Georgia, let's first run down the key features of the new reissues at hand. Upfront, we confirmed from our label contacts at Craft Recordings that both of these fine new reissues were cut from digital sources by Kevin Gray at Cohearent Audio, and they were pressed on 180g vinyl at Memphis Records Pressing. This process makes sense, as many, if not most, artists were recording digitally in some form or another by the 2000s, an inevitability that hardcore analog purists must face as many 21st century album favorites transition to vinyl. That said, this is a golden opportunity for talented mastering engineers to ensure that warmth we need comes through in the final pressings — and Kevin Gray did quite a fine job with these two R.E.M. releases. For one thing, I can turn up the volume while playing either of them without experiencing off-putting harshness.
Collapse Into Now's single disc comes housed in an audiophile-grade plastic-lined paper inner sleeve, while Around the Sun's 2LPs arrive in custom paper inners with full printed lyrics. In the "credit where credit is due" department, don't be off-put by the paper sleeves used for the Sun LPs as they are of very high quality — a glossy, heavier-weight stock (not cardboard, however!) that allows the discs to slip in and out quite easily and without fear of scuffing the discs. (Truthfully, I was pleasantly surprised with it here myself!)
Collapse Into Now was originally produced by Jacknife Lee and mastered by Stephen Marcussen of Marcussen Mastering, whereas Around the Sun was the band's final studio work with longtime producer Pat McCarthy. The original vinyl pressing was mastered by Ted Jensen at Sterling Sound.
Rare original copies of these albums have become hot collector's pieces with prices ranging into the hundreds of dollars each, so a high-quality reissue series from Craft Recordings — the label that has been consistently reissuing a number of R.E.M. catalog releases in recent years, with more to come — was no doubt overdue. Both vinyl pressings I received for review sound crisp and clear, as befitting their modern-leaning production flavors. The LPs are dark black, well-centered, and quiet, transparently disappearing so the music just shines through. All those key checkpoints line up nicely.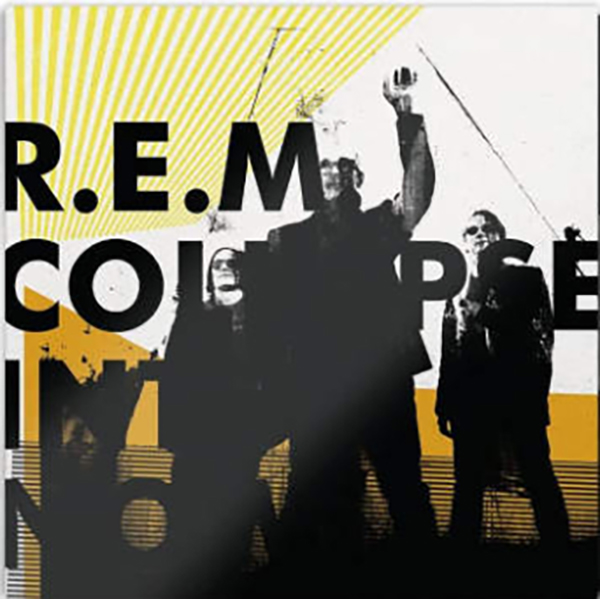 Listening to both of these R.E.M. albums on vinyl feels almost like listening to brand-new music from a favorite band. Working backwards, I have to 'fess up that I am hearing Collapse Into Now effectively for the first time. I'm sure I heard some of it when it was initially released in 2011, but numerous things conspired against me to overlook it back then. In part saddened by the news that the band was ending coupled with other personal tragedy I was dealing with at the time, this album essentially slipped by me — but now, thanks to Craft, I am more than making up for the lost listening time.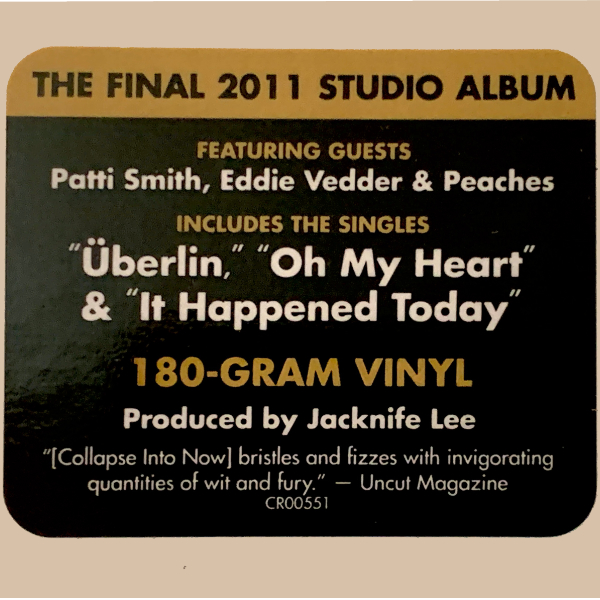 A true aside: I get a little emotional about "final" albums by groups I like, ever since the childhood trauma (if you will) of The Beatles breaking up. As a 9-year-old fan whose musical life revolved around The Fabs, their split was devastating news! Relative to that, I haven't been able to play Bowie's Blackstar again since he passed in January 2016. And Emitt Rhodes' final effort from February 2016, Rainbow Ends, makes me tear up every time I return to it.
Anyhow, time heals all, and now I get to appreciate this music with a fresh mindset, and can approach the Collapse LP as effectively a "new" R.E.M. album, at least to me — and perhaps to many of you too.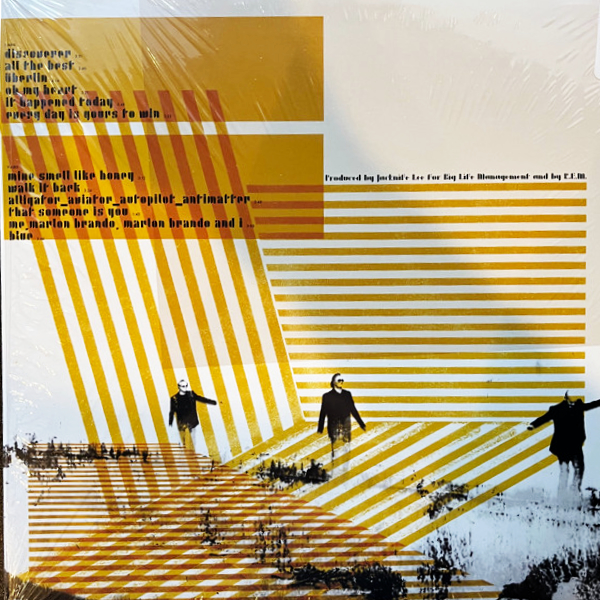 As a result, I am enjoying Collapse Into Now as the good hard-rocking album it is. Kicking into gear with some real strong moments right from the get-go, the one-two punch of Side 1's "Discoverer" (Track 1) and "All the Best" (Track 2) deliver R.E.M.'s punk-inspired, alt-rock side. I like how they follow-up this assault with a nice, acoustic-flavored track immediately afterward, "Überlin" (Track 3). There are some lovely low-end sonics happening along the way, such as the final notes of "It Happened Today" (Track 4). On the flipside, "That Someone Is You" (Track 4, Side 2) is a fun burst of ripping modern power pop that sounds great when played up loud. (Also note that Side 1 is specifically dubbed as "X-Axis," and Side 2 is called "Y-Axis.")
Perhaps the most powerful moment for me on Collapse Into Now happens at the end of the album with the guest vocal by poet-singer/songwriter-author Patti Smith and her great guitarist/composer Lenny Kaye on "Blue" (Track 6, Side 2). This moment jumps out of the speakers, surprising much in the way Bruce Springsteen's appearance on the title track to Lou Reed's February 1978 opus Street Hassle always sends a shudder down my spine. A very special moment captured to effectively end Collapse, for sure.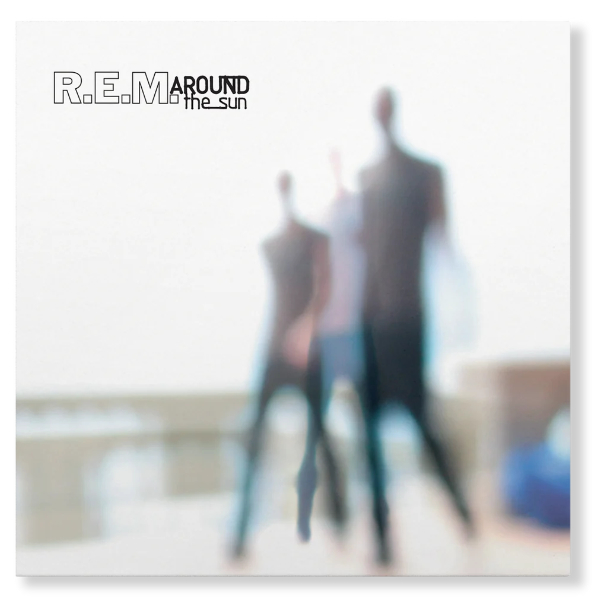 I enjoyed 2004's Around the Sun when it initially came out, but I remember some friends being a bit nonplussed about it at the time. Checking the interwebs, it seems that critical response was indeed quite mixed. Regardless, according to the official press release, the album was well-received globally: "Marking the band's final collaboration with producer Pat McCarthy (The Waterboys, U2) and their first with drummer Bill Rieflin, Around the Sun features the singles "Leaving New York" (a Top 5 hit in the UK and No.1 on Billboard's AAA chart), "Wanderlust," the melancholic "Aftermath," and the trippy "Electron Blue." . . . Around the Sun topped the album charts in the UK, Germany, and Sweden, among other territories, and landed at No. 13 on the Billboard 200."
Past reputation aside, I think this album has aged well, and is worthy of revisiting. Personally, I prefer McCarthy's production on Around the Sun over the somewhat harder-edged Jacknife Lee-helmed Collapse Into Now. A personal preference, to be sure, but just feels a bit more like a classic R.E.M. album in that way.

The album-opening hit "Leaving New York" (Track 1, Disc 1, Side 1) sounds wonderful on this new release. Bill Rieflin's drums — the same Bill Rieflin from one of the more recent incarnations of King Crimson who passed away in March 2020 — on "The Outsiders" (Track 3, Disc 1, Side 1) have a fine natural resonance I appreciate.
I think one of the reasons I like Around the Sun is it accomplishes one of those rare blends of looking forward and back at the same time. Lovely gems like "Wanderlust" (Track 1, Disc 2, Side 1) feel almost like the band is channeling The Kinks circa 1967 (notably, the waltzy march of "Dead End Street"). The implied wobbly clank of "High Speed Train" (Track 1, Disc 2, Side 2) is haunting and beautiful, with rich distortion complementing a lovely nylon-string guitar solo.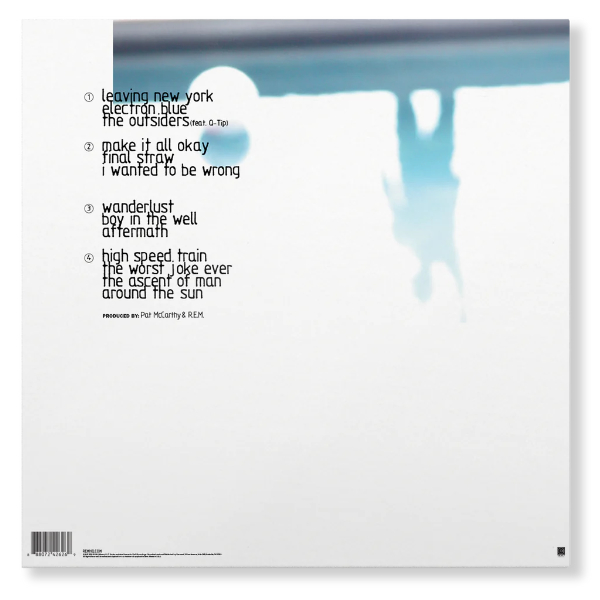 With three songs per side on this 2LP set, Around the Sun is effectively broken up into four mini-suites that make for a very appealing listening experience as opposed to the continuous playlist of the CD and DVD-A versions of the album I have in my collection. In some ways, it is easier to take in all 55 minutes of this music in such smaller nuggets.
If you love and miss R.E.M. like I do, these new vinyl reissues of Around the Sun and Collapse Into Now are no doubt excellent options for revisiting the group's late-period music that you may have overlooked, or simply not gone back to for a while. Craft Recordings has more R.E.M. LP reissues on the way — and we'll be reviewing those too, sometime later next month — but you can't go wrong refreshing yourself with spinning either and/or both Sun and Collapse.
(Mark Smotroff is an avid vinyl collector who has also worked in marketing communications for decades. He has reviewed music for AudiophileReview.com, among others, and you can see more of his impressive C.V. at LinkedIn.)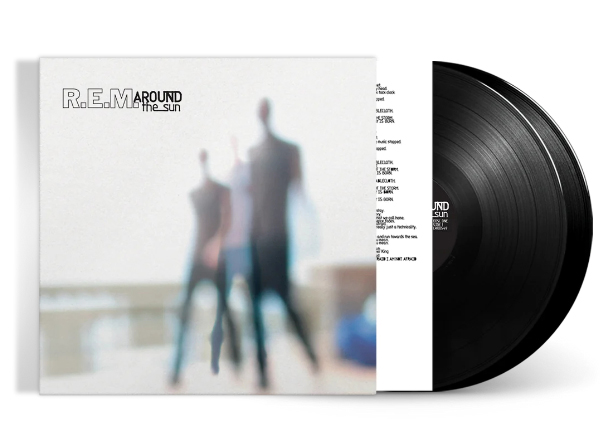 R.E.M.

AROUND THE SUN (2004)

180g 2LP (Craft Recordings)
MUSIC: 9

SOUND: 9
Disc 1, Side 1

1. Leaving New York

2. Electron Blue

3. The Outsiders
Disc 1, Side 2

1. Make It All Okay

2. Final Straw

3. I Wanted To Be Wrong
Disc 2, Side 1

1. Wanderlust

2. Boy In The Well

3. Aftermath
Disc 2, Side 2

1. High Speed Train

2. The Worst Joke Ever

3. The Ascent Of Man

4. Around the Sun"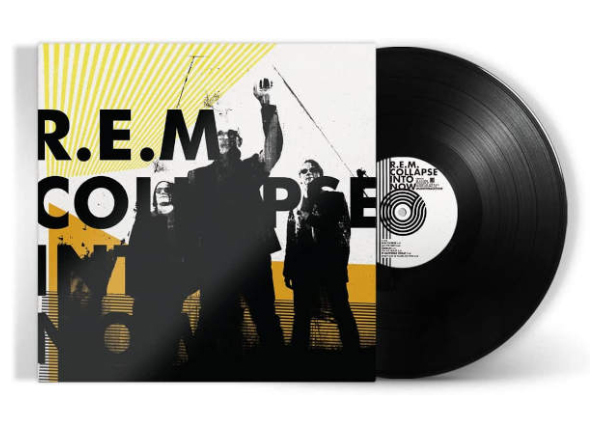 R.E.M.

COLLAPSE INTO NOW (2011)

180g 1LP (Craft Recordings)
MUSIC: 8

SOUND: 8
X-Axis (Side 1)

1. Discoverer

2. All the Best

3. Überlin

4. Oh My Heart

5. It Happened Today

6. Every Day Is Yours To Win
Y-Axis (Side 2)

1. Mine Smell Like Honey

2. Walk It Back

3. Alligator_Aviator_Autopilot_Antimatter

4. That Someone Is You

5. Me, Marlon Brando, Marlon Brando And I

6. Blue